Order Flowers now for guaranteed delivery before Mary's visitation.
Mary June Bonacker
Mary June Bonacker, age 89 of Rogersville, passed away September 21, 2020. She was born July 6, 1931 in Crane, the daughter of Pate and Beatrice (Puett) Bassett. Mary was a dedicated home economics teacher for 30 years for Nixa Public Schools. Prior to teaching she was an extension agent for Christian County and a dietician for St. John's hospital. Mary was a member of East Sunshine Church of Christ and Alpha Sigma Tau Sorority at Southwest Missouri State University. Mary enjoyed cooking, sewing and traveling Europe, Canada and Mexico and much of the United States by private plane, (3017A). Most cherished was the time spent with family and friends. Survivors include: her husband, Judge Donald Bonacker of Rogersville; children, Mary Teresa Schupbach Hedgpeth and husband John Frederick of Ozark, Lisa Ann Schupbach Ness and husband Peter Jon of West Linn, Oregon, and Lisa Ann Slattery of Springfield; grandchildren, Kathryn Michelle Baker and husband Ryan of Ozark, Laurie Ann Fairbairn and husband Matt of St. Louis, Abbie Elizabeth Hedgpeth of St. Louis, John Robert Hedgpeth of Ozark, Andrew Walker Ness of West Linn, Oregon, Luke Wyatt Ness of West Linn, Oregon, Leslie Deane Bonacker of Springfield, Mitchell Slattery of Maine, Peter Slattery of Springfield, and Daniel Slattery of St. Louis; great grandchildren, Jack Frederick Fairbairn, Reid Matthew Fairbairn and Olivia Grace Fairbairn, all of St. Louis; daughter in law, Deborah Bonacker of Springfield; sister, Nora Jean Barnard and husband Frank of Green Forest, Arkansas; and sisters in law, Marj Schupbach of Springfield and Janet Bassett of Crane. Mary was also loved by many nieces and nephews. Mary was preceded in death by her parents, her husband, Robert Louis Schupbach, a brother, Robert Bassett, an infant sister, Barbara Ann and a son, Scott Bonacker. A private graveside service will be held at 2:00 P.M., Friday, October 9, 2020 in Missouri Veterans Cemetery, Springfield. A visitation will be held from 11 A.M. until 1:00 P.M., Friday, October 9, 2020 in Adams Funeral Home, Ozark.
To plant memorial trees or send flowers to the family in memory of Mary Bonacker, please visit our flower store.
---
Guestbook
A photo was added for Mary June Bonacker
Funeral Home Owner Feb 9 2021 12:00 AM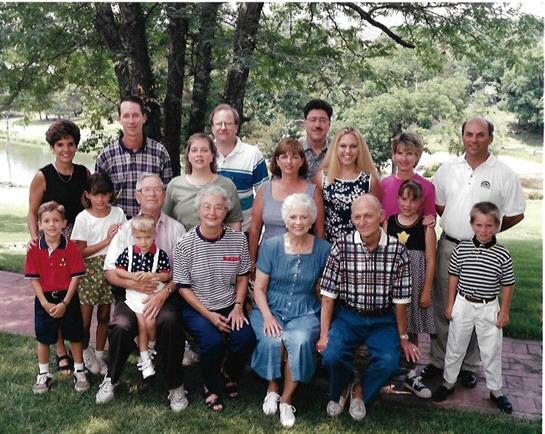 Don, I am so sorry for your great loss. I know she will be missed by all who knew her, and enjoyed her wit and most of all her wonderful stories! Loved getting to know both of you for the time I was able to, ease don't be a stranger! Much love and hugs friend! Galen
Galen Elliott Oct 7 2020 12:00 AM
Terry, Lisa, Don and families! I am so sorry to hear of your loss. Mary was most instrumental in recommend the career I served in, Dietetics. I always enjoyed all the times we got to spend together over the years. I am so glad my sister, Suzanne and I, were able to visit her earlier this year. I fondly remember the fun I had visiting Mary when I was a teenager. Betty (Schupbach) Iorg 816 444 4878
Betty Iorg Oct 7 2020 12:00 AM
I was saddened to learn of Mary's passing. Such a sweet and kind lady, Diane Jared
Diane Jared Sep 25 2020 12:00 AM
What a mentor and special lady! She was a young widow teaching high schoolers to sew three piece outfits and (not just aprons) show them in fashion shows. She taught us the basics then let us create in her school kitchen. She has influenced my life many times. RIP.
Pam Tando Williams Sep 25 2020 12:00 AM
Rest in peace, Mary. You were a dear lady. I first met you in 1977. My condolences to Judge Bonacker and your whole family.
Nan Susan Hart Sep 24 2020 12:00 AM
Mary was such a sweet, kind, beautiful lady. I have fond memories of her as I was a neighbor to her and Don for many years. Especially remember our visits, and the delicious cobbler in their back yard. She will be greatly missed. Brenda Mings
Brenda Mings Sep 24 2020 12:00 AM
I loved this lady so much. I can't tell you all of the real life lessons she taught me during high school! I love sewing still today...and largely in part to Mary sharing her own love of sewing and cooking! I am honored to have shared in her life and will miss her greatly.
Tracy Hill (Powell) Sep 23 2020 12:00 AM
She was the most patient teacher I ever had in high school. A seamstress I was not; however, Mary assisted me and I completed my dress project as well as passed my one and only Home Economic class. A sweet lady and teacher.
Jeana R. Siler Sep 23 2020 12:00 AM