Order Flowers now for guaranteed delivery before Geneva's visitation.
Geneva Collins Faught
Geneva (Jenny) Collins Faught was born March 27, 1921, the youngest child of Ross and Inez Collins, in the Selmore community south of Ozark. Her parents' farm was adjoined by other family farms and she enjoyed a childhood playing in Hog Creek and attending Selmore Christian Church with her Hanks, Collins, and McGinnis cousins. When her father's health failed, she moved to town with her parents. During a Fourth of July picnic in 1935 at Ozark's Jones Spring Park (presently Sarah Adams Orr's home), she met her future husband, Cletus (Tommy) Faught. Despite being warned about dating a Nixa boy by the Ozark School Superintendent, she and Tommy were married shortly after her high school graduation in 1938. They celebrated 65 years of marriage a few months prior to Tommy's death. Being a homemaker and raising four children became her primary roles. An avid reader, she passed her love of reading to all her children and grandchildren. After her children were grown, she served on the boards of the Christian County Library, Christian County Historical Museum, and the Christian County Sheltered Workshop. She and Tommy purchased their beloved farm near Riverdale in 1974. Helping Tommy with a large garden and orchard she filled their basement and freezer with canned and frozen fruits and vegetables. At age 55 and now living in the country, she became determined to get her first driver's license. Enlisting the help of her children, she began taking driving lessons, but fearful she wouldn't pass the driving exam she kept this a secret from Tommy until she could show him her acquired license. After Tommy's retirement, they enjoyed traveling to Europe and all around the United States. During the 1990s, Tommy and Jenny moved to Nixa and became involved in that community. They served on the Nixa Sucker Day committee and volunteered at the annual event. Jenny served as honorary Sucker Day Grand Marshal in 2004. Jenny joined the Nixa Business Womens Group. Following Tommy's death, Jenny successfully conquered breast cancer for a second time and proudly participated in the Nixa Relay for Life event for several years. At age 90, Jenny moved from her home in Nixa to The Montclair Independent Living Facility in Springfield. She became a favorite among residents and staff for her sweet spirit, smile, and beautiful white hair. She developed a special friendship with a fellow resident, Ken Graham. At The Montclair, she and Ken shared meals together in the dining room, attended movies, music programs, and other activities. When COVID-19 caused The Montclair to shut its doors to visitors, Jenny's family was grateful to know that she was still able to share companionship with Ken. She was preceded in death by her husband, her son, David K. Faught, all of her sisters, brothers, sisters-in-law, brothers-in-law, and their spouses. She is survived by her daughters, Anne Faught of Woodacre, California, Julie Anderson of Springfield, Missouri, and Tracy Lipscomb and husband, Larry, of Springfield, a daughter-in-law, Billie Faught of Springfield, eleven grandchildren, nine great-grandchildren, and two great great-grandchildren. Jenny received extraordinary care at Cox South Hospital and her family extends their gratitude to all the health care workers that provided medical care and loving comfort to her during the last week of her life. A private graveside service will be at Selmore Cemetery, under direction of Adams Funeral Home, Ozark, with Pastor Bud Kelley officiating. At a later date, there will be a celebration of her life. Memorial contributions may be made to any of the boards Jenny served on, The Cox School of Nursing, or BCFO (Breast Cancer Foundation of the Ozarks.)
To plant memorial trees or send flowers to the family in memory of Geneva Faught, please visit our flower store.
---
Guestbook
Truly a beautiful lady inside and out. She was kind and loving
John heitz Feb 15 2021 12:00 AM
A photo was added for Geneva Collins Faught
Funeral Home Owner Feb 9 2021 12:00 AM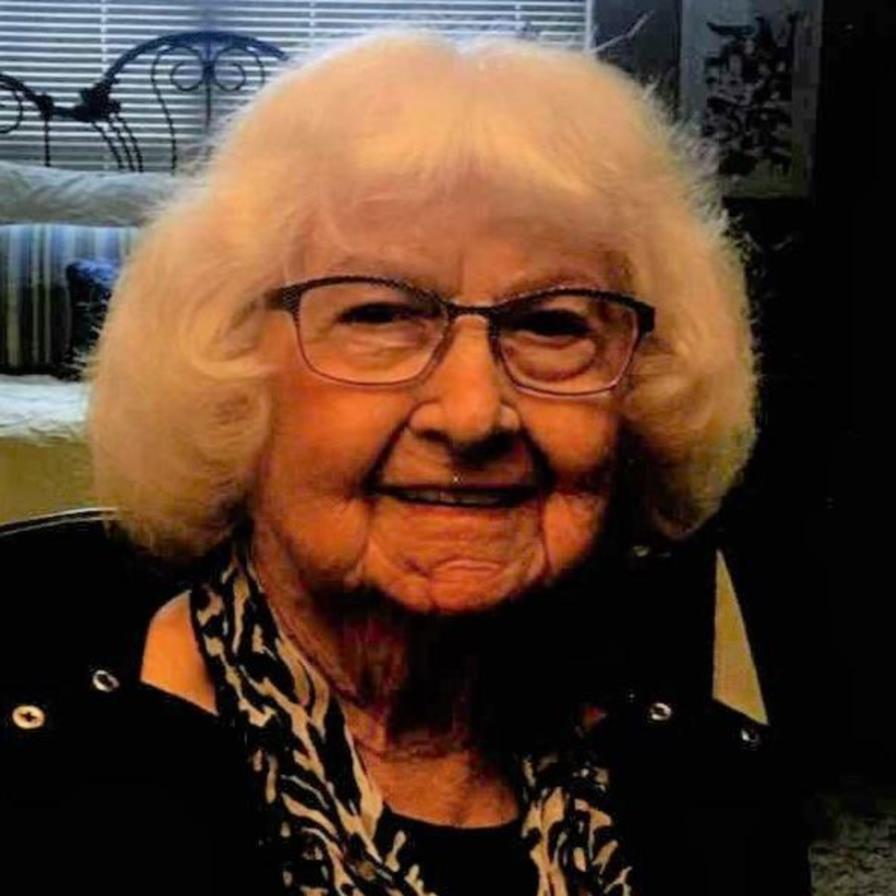 Mrs. Faught was a kind and lovely woman. She was known to me as "David's Mother" because he and I went to school together. In the past several years, I encountered her a few times at Montclair Retirement Community, and she and I would reminisce about the old days. Jane Farthing Wheeler
Jane Farthing Wheeler Feb 9 2021 12:00 AM
I had the privilege of meeting Ginny when I lived 5 years at the Montclair. She was such a lovely, sweet lady. She will be greatly missed. I have no doubt she is smiling down from Heaven. R.I.P. dear Ginny v Love Phyllis Johnson
Phyllis Johnson Feb 9 2021 12:00 AM
Ginny was a sweet & kind neighbor who was a great cook & made delicious blackberry cobblers! She will be missed yet remembered by many.
Carla Thornton Feb 4 2021 12:00 AM
My favorite dance partner of all time. Her energy and joy for life and love was contagious. A sweet soul indeed. John Dillon
John Dillon Feb 3 2021 12:00 AM
I remember your Mother since we were teenagers. We used to talk frequently over the phone and discuss her upcoming 100th birthday. So sorry for her passing and I will greatly miss her. Lavenia Wood
Lavenia Wood Feb 3 2021 12:00 AM
I remember her sitting in Julie's screened porch and loving to watch the birds. She was a sweet kind lady
mary jane martino Feb 2 2021 12:00 AM
Thinking of all the family members impacted with this passing. Our heartfelt sympathy to the Lipscomb family in the loss of your mother, mother-in-law, grandmother and great grandmother. What a blessed and long life. What outstanding contributions to our community. She will be missed. Mike and Teresa Young Springfield, MO
Teresa Young Feb 2 2021 12:00 AM
So sorry for your loss. I know she will be missed Jenny was one of the sweetest kindest beautiful person. Her smile was so welcoming Her words so sweet and full of wisdom. I was grateful the Lord caused our paths to cross. Sandy Kelley
dandy Kelley Feb 2 2021 12:00 AM